At Magnus Legal we are fortunate to work with many very talented and nice colleagues. Here's one of them. Meet Christina Fahle.
Why did you decide to become a lawyer?
I decided to become a lawyer when I was about 12 years old. I still remember when my friend and I went to the library and took a photo of me with the laws. In Norway, this is a huge red book, and this was for me a defining moment.
Not to forget, TV shows as L.A Law and Ally McBeal confirmed to me that my decision was correct.
The reason for wanting to become a lawyer, was composed. I have always liked to read, and I love to speak, this is a benefit in this occupation. In addition, as a lawyer you are in a unique position to help individuals, and companies with their legal problems. Furthermore, in a legal career you will always be challenged.
Which legal areas do you specialise in?
In general, I work with international employments. More specific, I assist companies with their obligations when having activities in other countries. In addition, I also help private individuals with questions related to tax and national insurance among other things.
What are you passionate about (work related)?
It is important for me to make the process of coming to Norway and understanding the systems as easy as possible. The reporting system is not always set up the best way for the foreign companies, and I am passionate about the systems to be developed and possible to understand for the foreign user, the same way as for Norwegians.
What was the most interesting thing that happened at work this week?
This week has been busy - working against the deadline for submitting the personal tax returns for my private clients. It is a lot of different problems that need to be considered. Also, I get a chance to talk to my clients, and that is interesting itself, they are pleasant, and I appreciate to be at their assistance.
What do you like about Magnus Legal?
I have worked at Magnus Legal since 2015 and I truly appreciate to work for this company. I have the best colleagues, both professional and socially. I value that we can cooperate across our locations, and that I collaborate daily with colleagues in e.g. Bergen and Oslo. In this way, we can set up the best team for our clients. Magnus Legal is not only my employer, but a part of my family.
What is your favourite activity outside work?
Outside work, I like to spend time with my family (three children), friends and I also like to travel with both friends and family. When I have time for myself, I still love reading books. However, not legal books, just novels and crime.
More about: Christina Fahle
Read: Blogs by Christina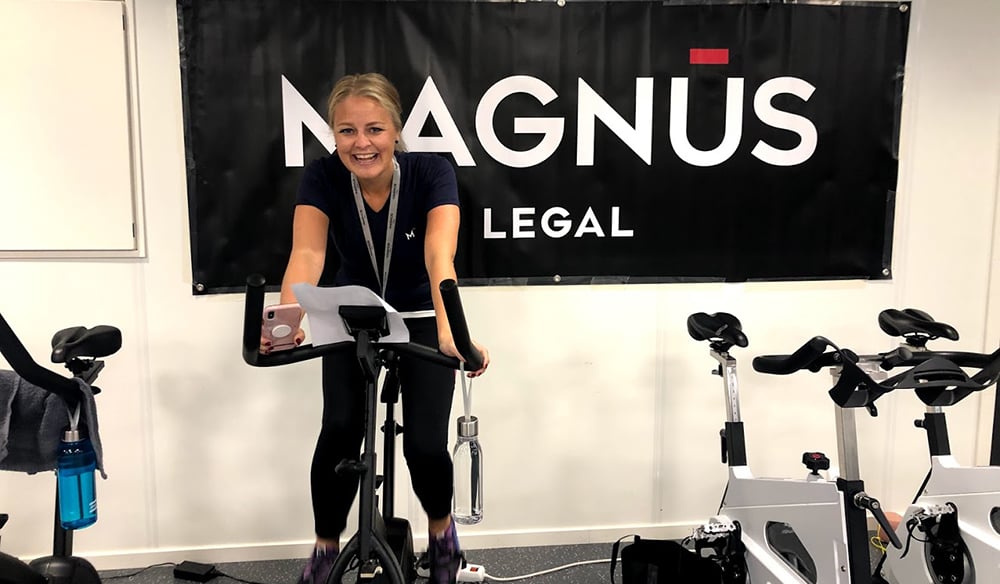 Christina cycling for charity with an aim is to raise money for SWATS and education to people who are not as fortunate as we are.