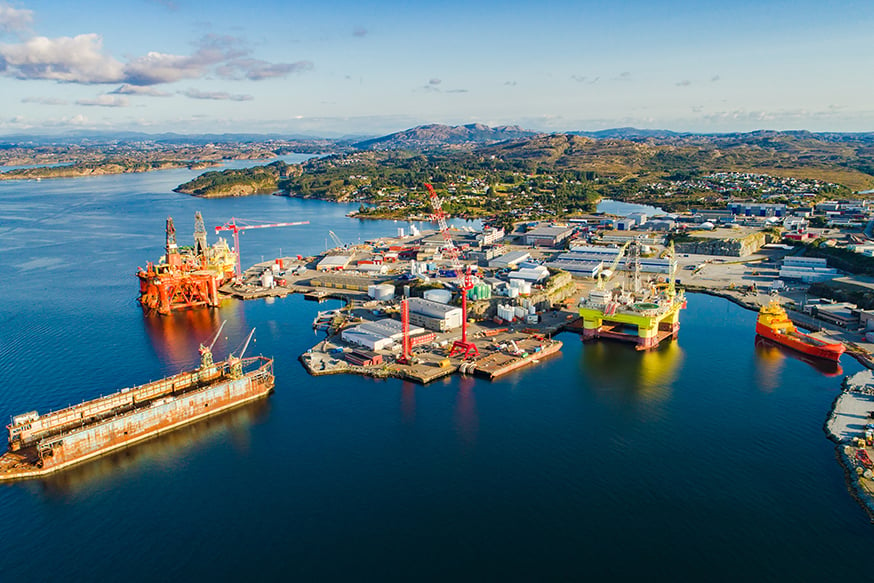 Total investments in Norway are expected to increase in 2020. This means great opportunities for companies in industries such as oil and gas and construction.
Expected increase in investments
In Norway, the companies' latest investment estimates for 2020 shows an expected increase within oil and gas, manufacturing, mining and quarrying and electricity supply. New 2019 estimates are substantially adjusted upwards from the previous survey conducted by Statistics Norway in 2018.
The investment survey for 2020, conducted in May 2019, within oil and gas, manufacturing, mining and quarrying and electricity shows that the expected investments amounts to NOK 228 billion. This is 8.2 per cent higher than the corresponding figure for 2019. The growth can mainly be attributed to growth within the oil and gas industry.
In addition, we expect new investments and growth within infrastructure. Over the next 12-year period (2018 – 2029) the Norwegian government has proposed to develop the national infrastructure by spending 1 064 billion NOK on roads, railways, shipping, aviation and public transport.
The government explains that an investment of this magnitude is needed to stop the increasing deterioration on roads, railways and fairways. It is also required to develop infrastructure with a more long-term perspective to meet the needs of shorter travel time, higher safety, strengthened environmental protection, and to promote wealth creation.
The published plan is the most extensive in the history of Norway. Construction industry worldwide and particularly in Europe may find great business opportunities.
Download free guide: Guide to Tendering for Public Contracts in Norway



Magnus Legal is a member of MSI Global Alliance. One of the world's leading international associations of independent legal and accounting firms, with more than 250 members in 100 countries.
Roads
It is planned to spend 536 billion NOK on maintenance and new construction of roads. Several large projects have already been started to develop and reconstruct the main roads across the country. A total of 1 200 kilometres of new roads is planned, and 290 kilometres are going to be 4 lane roads. 100 billion NOK will, according to the plan, be spent on maintenance of the existing road network.
Also read: How to choose the right corporate structure in Norway
Railroad
319 billion NOK is set aside for railroad. This is approximately 30 % of the total planned budget. The massive investment plans are supposed to transform the infrastructure to become more environmentally friendly by transporting more people and goods over longer distances safe and fast. Upgrades of already existing network and increase in the frequency of departure is supposed to make railroad the preferred way of travel in densely populated and urban areas. Long distance railroads operated by fossil fuel is reconstructed to operate using renewable energy sources.
Also read: RF-1198 and RF-1199 reporting for foreign businesses


Shipping
Norway has a long coastline and long traditions within shipping. It is therefore essential to maintain safe and efficient shipping. According to the plan, 31,7 billion NOK is set aside for further development and modernisation of the navigation infrastructure at sea and developing new quays and moles to make the goods transport more effective.
Also read: 6 tips for businesses: How to get a VAT refund in Norway


Aviation
3.9 billion NOK has been allocated to aviation. Among the largest projects is a new airport in Mo i Rana and moving the airport in Bodø to give room for the urban development of central city area.


Planning for the future
The remaining 173,4 billion NOK is set aside for public transport, developing urban environments, running technology pilots and updating and adapting the legislation. The government believes that digitalisation and new technologies will radically change the way we travel and the effects travelling has on the environment and climate.
Also read: Do the right things when doing business in Norway


Business opportunities
Because of the estimated increase in investment within oil and gas, manufacturing, mining and quarrying and electricity supply the opportunities in Norway has increased. If we take into consideration that the public investments suppliers within EEA are offered equal terms when participating in a tender related to government investments, the opportunities for European companies has increased within public procurement as well and will continue to grow for the years to com. The Norwegian procurement legislation is mainly based on EU directives that Norway is bound to implement through the EEA-Agreement.
The estimated increase in investments within oil, gas and energy, along with the ongoing and planned public investments will trigger growth and development that can bring great opportunities for businesses within:
Oil and gas
Manufacturing
Renewable energy
Marine technology
Tunnelling
Engineering
Construction
Building
Technology
In addition to the contracts awarded through public procurement, a lot of subcontractors and a sizeable workforce will typically be needed for large projects like these. Medium and small companies, which do not meet the requirements to attend a large tender, may find opportunities in quoting for subcontracts.
Be prepared
Make sure your company is prepared and qualified to win. Magnus Legal has developed two useful guides for companies that want to enter the Norwegian marked. Download today.
---
Magnus Legal and Inventura combine forces
In order to offer our customers the best expertise in the area of public procurement, Magnus Legal has entered into cooperation with Inventura. Inventura offers comprehensive and complete assistance, that will increase your chances of winning the competition.
Read more on the website: www.inventura.no/en
---
Article first published 11 June 2018, updated and republished September 2019.